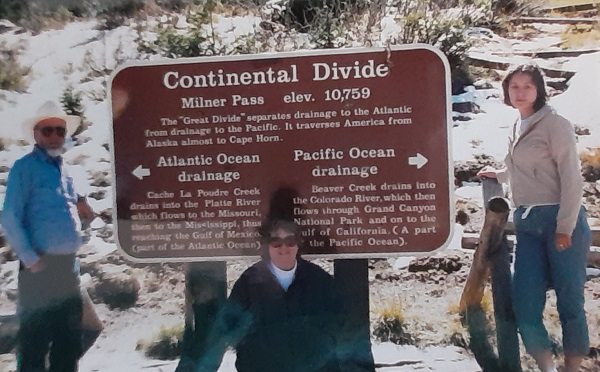 GCNO writer talks about his 'daughter' in Ukraine
~by Janice Harbaugh
My heart is in Ukraine.
In 1999, my husband and I met an international student sponsored by a program in Jasper County. Alona was from a village in the Ukraine and she lived with us on our land near Mitchellville for several months.
We learned about Eastern European history, conditions in Ukraine, his family and his hopes for the future as we traveled through Iowa, showing him our history and our treasures. She told us that Ukrainians know Iowa because of the agricultural exchanges.
We were going to visit family in Greene County and I told him it was one of the richest soils in the world. Alona would tease me that the ground in Ukraine is "deeper and a bit blacker".
She was a young child when the Soviet Union dissolved in 1991 and Ukraine became a democracy. She remembered her father losing his good job in the formerly state-run businesses. Russia tried to interfere in the economy for years, while Ukraine struggled to understand the new mode of government and establish itself as a democracy.
Alona described Ukraine's economy in the 1990s as being based on barter as well as cash, and people set up small shops in towns similar to our garage sales. There were underground markets and a strong criminal network competing with the new democratic government for control. If families were not financially able to send their children to high school or support older children, teenagers lived on the streets.
It was very difficult for us to send Alona back to Ukraine at the end of her exchange visit. In a leap of faith and a vote for capitalism, we gave her an American credit card and she could use it at a bank to get enough money every month to finish high school, and then, because the higher education was only a small fraction of the cost is here she was able to go to college. She earned a degree in commerce and another in banking.
But before she started college in the fall of 2001, Alona came back to us for a month. We went to Yellowstone and visited Colorado. On the way back, we spent the night in Nebraska. On the morning of September 11, she knocked on the door telling us to turn on the television.
The following days after 9/11, Alona saw democracy in action. All government actions, speeches, television reports, mourning. She couldn't get home because the flights were grounded. Her parents called from Ukraine, panicking until she calmed them down.
When the flights resumed, we went to Chicago, to O'Hare, to send her home. Security there was intense. At first we were not allowed to wait with her for the flight to Poland, but she spoke in Ukrainian to the authorities and, with an ID, we were then allowed to stay with her among the Poles who were waiting to go back home. They were all exhausted and disheveled, many of them having waited for days for a flight to Warsaw. We weren't very pretty either.
She had told us not to speak English as we were going to the Polish airline. She said, "Mom, fit in!"
I forgot later and told him something. Immediately, the Poles turned to me, knowing that I was American.
I couldn't communicate, but I started crying because Alona was going home and we had just suffered an attack on the United States.
The people in the group also started crying, and we nodded and smiled until the plane boarded.
Alona started college late, but was asked to talk about the United States and her experience in her college classes.
We have stayed in communication with Alona over the years. When the international texting apps started we texted and sent pictures, and when my niece was working at a military base in Germany in 2019, she spent a long weekend with Alona and her family, one of the best experiences of her life to see the Alona she had known briefly as a child.
Alona landed a great job in banking, got married, had a daughter who is now a teenager. Over the years, democracy has grown stronger and Ukraine's economy has grown and become more stable. Alona and her husband moved to Kyiv and operated a small restaurant supply business for several years. They just welcomed a baby boy in October.
I texted Alona when I heard about the Russian invasion. She replied: "It is a difficult time for Ukraine. The soldiers are in Kiev. Explosions all over the country. Airports disrupted. Our whole family moved to the village because it's not good for babies in the shelters in town at night. We pray for peace and hope this will end soon.
I texted that we heard what the Russians were doing and that many families were trying to get to Poland. I told him we would keep trying if we lost text communication.
The next day, Alona replied that she would do her best to keep in touch. She said she and her husband decided not to go to Poland because only she and the children would be allowed to cross the border. Her husband must stay to fight.
The last text I received from Alona was "Could you please share the information as the news from Europe won't tell the whole story."
I think Alona wanted to share it with her family, but I want to share it with more people.
I texted back which I would share and we hear about terrible conditions and the bravery of Ukrainians defending their country. I said that Zelensky stayed in Kiev to defend him. I said that the United States was with Ukraine.
My international texting app says the message reached her phone, but also that she hasn't read it after several hours. There can be many reasons for this.
My heart is in Ukraine.