Lexington writer collecting graphic novels for a memorial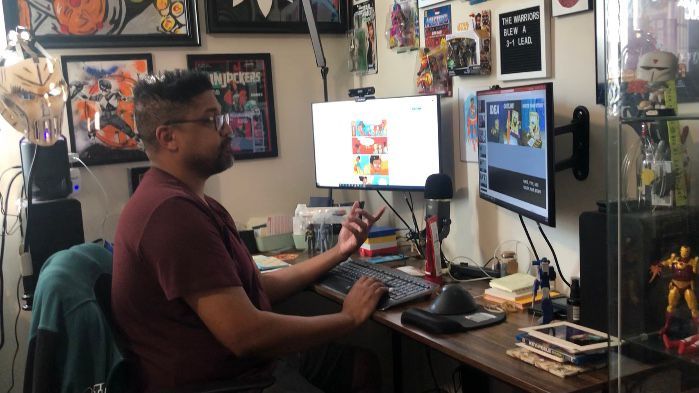 LEXINGTON, Ky. — A Lexington graphic novelist remembers the two children who died in May after being stabbed by their mother. Her project honors their lives and shows her support for children in the community.
---
What do you want to know
Lexington graphic novelist remembers Deon and Skylar Williams
Deon and Skylar were killed in their home on May 2
Deon was part of Shawn Pryor's session at Winburn Middle School
Pryor is working to create space in the school to honor children
---
Shawn Pryor has been a graphic novelist for 15 years.
"Once you get into the creative process, you learn to create characters in order to create stories," Pryor said.
And he recently taught a 4-week course at Winburn Middle School in Lexington.
"That's where I first met Deon," Pryor said.
Pryor says 13-year-old Deon Williams was a quiet kid when class started.
"It reminded me so much of myself when I was little," Pryor said.
But over time, Deon shared stories and memories with Pryor, leaving a lasting impact on his heart.
"He's like, this is the best school year I've ever had. And I was like, I guess, you're enjoying the class. He's like, Oh, yeah, definitely. And so, I'll see you there. next week he said I'd be there. And that was the last time I got to speak to Deon," Pryor said.
Deon Williams and his five-year-old sister, Skylar Williams, were killed Monday, May 2, inside their home in Lexington. And Pryor says it's a tragedy that has sparked interest in giving back.
"I miss Deon a lot. It makes me sad that he and Skylar can't live their lives," Pryor said.
Pryor created a GoFundMe and raised over $3,500 in less than a week, hoping to purchase graphic novels and comic books to place in the Winburn Middle School library in honor of Deon and Skylar.
"Knowing that it was a place for him where he was happy, or he felt someone cared about him. That will be with me for the rest of my life," Pryor said.
Pryor hopes to create a corner in the library where his comics and creative writing classes were held.
A place where Pryor says he will always remember the impact Deon had on his life.