Kal-El Writer's Son Promises Superman Reunion This Fall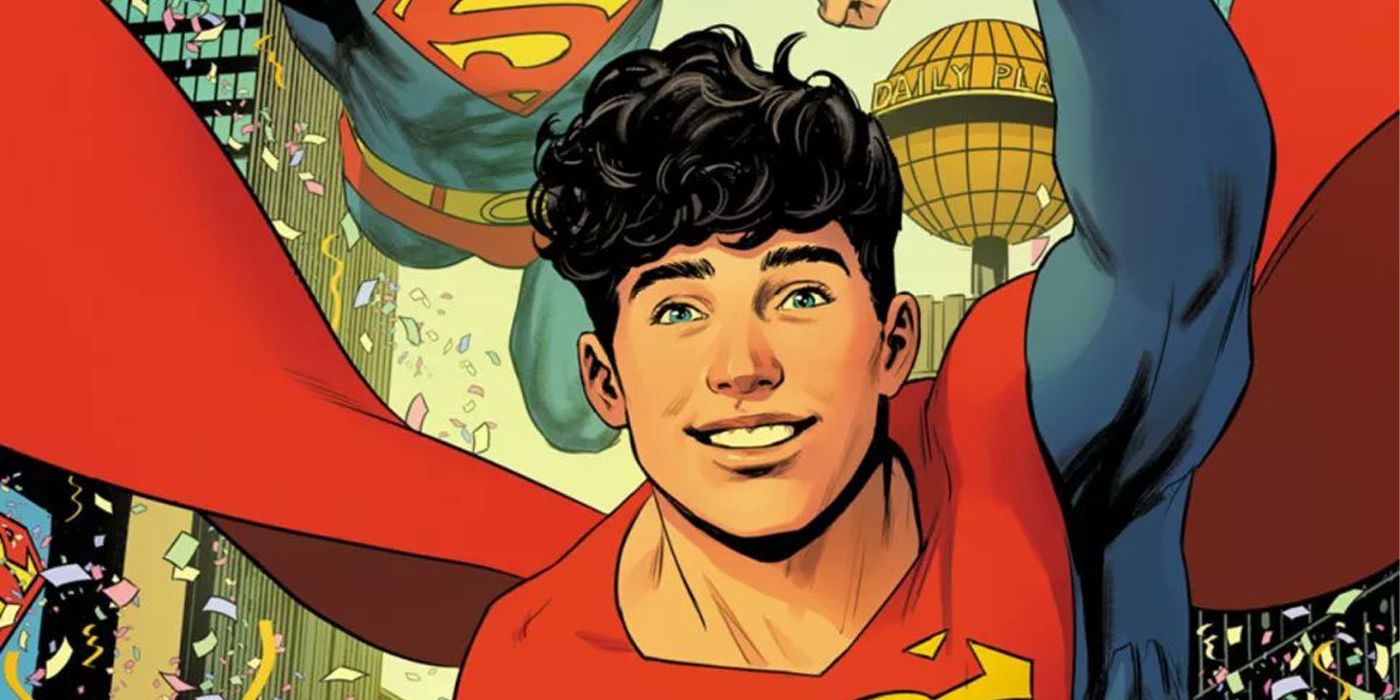 Superman Jon Kent defended Earth in his father's absence, and Son of Kal-El writer Tom Taylor reveals when Clark Kent finally returns home.
The father and the super son meet in Superman: Son of Kal-El.
Series writer Tom Taylor announced on Twitter that Clark Kent (Kal-El) will be returning to the title in October 2022. Son of Kal #16, with artist Travis Moore and colorist Tamra Bonvillain's issue cover featuring Clark and his son, Jon, flying through a party town. At the beginning of Son of Kal-ElClark flew from Earth with the Authority to fight Mongul in Action comics "Warworld Saga", leaving Jon to protect the planet as the main Superman. Clark, however, missed a number of things in his absence, and a major development for his son's character.
RELATED: An Arrowverse Hero Comes to the DC Universe – and Saves the Justice League
Shortly after Clark left, Jon came out as bisexual and began a relationship with Jay Nakamura, whom Clark briefly met in Son of Kal-El #3. Together, Jon and Jay tried to stop President Gamorran Henry Bendix, the leader of Jay's home country who experiments on people and turns them into controllable superhumans. This mission also put Jon in the crosshairs of Lex Luthor, one of Clark's biggest villains.
Didn't Superman die in "Death of the Justice League?"
Clark's return raises other questions, however, especially when Son of Kal-El #16 takes place in connection with Justice League #75, the "Death of the Justice League". In the glitch that killed the entire League (but seemingly forced them to join their own dream worlds in reality), Clark was ripped from Warworld's orbit and died by Pariah's hand shortly thereafter. The loss of his father is what drives Jon to try to form a new Justice League in DC dark crisis event, which is expected to run through December 2022, ending after Son of Kal-El #16 outings.
RELATED: Dreamer May Have Confirmed Superman's Resurrection
Of course, other titles ignore the events of dark crisis and "Death of the Justice League" yet. Chip Zdarsky and Jorge Jiménez recently started their Batman run with Batman #125, where Bruce Wayne is alive and well. Bruce died right next to Clark in Justice League #75 and is absent from dark crisis thus, although the Dark Knight's single-player title still continues with the character.
At the time of writing, the next issue to appear for Jon's solo series is Superman: Son of Kal-El #14, which gives Jay his own awesome costume. The book is written by Taylor with interior art by Cian Tormey, main cover by Travis Moore, and alternate covers contributed by Danny Miki, Travis Mercer, and Rafael Sarmento. The issue is set to go on sale August 9 from DC Comics.
Source: DC Comics