Interview with writer/director Goran Stolevski for "You Won't Be Alone"
Filmmaker Goran Stolevski is making his feature film debut, You won't be alone, is a beautiful, heartbreaking and poetic film. Filmed in Serbia but set in 19th century Macedonia, You won't be alone follows Nevena on her gruesome journey to discover what it is to be human. To celebrate the film's release, I chatted with Goran via Zoom, and we discussed his inspiration behind the film, how he became a filmmaker, and what happens next.
PopHorror: I really liked You won't be alone, so I'm delighted to speak with you today.
Goran Stolevsky: Costs!
PopHorror: What inspired the film?
Goran Stolevsky: I mainly write relationship dramas, and by this time in my life, I had done a whole bunch of shorts and written a lot of feature films, but I wasn't going much in life. It was one of many scripts I wrote during a long period of unemployment. I was thinking of trying something different and I was thinking of doing a genre premise, but treating it like a relationship drama like I normally would, and using whatever conventions might be helpful to the story to trap feelings, and then somehow ignore those who weren't really connected. And then I quickly fell into horror.
I tend to write primarily from a female perspective because they're more closely aligned with my real brain. And then witches were the natural starting point for that. I researched some things in terms of Macedonian folk horror and wasn't very productive because there weren't many folk tales left that weren't weirdly moral stories about what should be a woman's place in life, so I ended up having to generate my own.
The only thing that was helpful in the research was looking at historical patterns of circle witchcraft and how it is dealt with. I discovered that even in Eastern Europe – I knew this in the West – but I didn't know that in Eastern Europe women were also accused of taking the form of another human being or an animal to do their witchcraft. I just thought, "That's kinda all I need." If you're able to do that and the rest of the world is the way it is, what a weird and amazing perspective on life you have, that you can live in different bodies as different humans and different animals. And I just took it from there and designed it from that premise, basically.
PopHorror: Were you a horror fan before?
Goran Stolevsky: I'm just a movie nerd. All types. I have no preference. I'm as excited about a 1950s musical as I am an 1980s horror movie. I'm just a fan of everything. I don't watch, in particular, horror more than others, I guess? But it wouldn't be less than others either. I'm thinking of writing an action movie next. They thrill me when they're great, but I go there, there's an energy or a feeling that comes to me, and then what's the natural shape of the story that matches it?
And the horror… I love stories from an outside perspective, and I feel like it gives you the opportunity to do something that gives you an outside perspective that's very grounded in real life . Like science fiction, looking for the cerebral or distant voice. I really want it to be something about daily life here but with that element that also transports, like the horror aspect. I want to be taken to a distant place that reflects a mirror on life as it is here. And I think the horror premise helps me go far and be transported and taken to that other frequency, that other place.
PopHorror: This is your first feature film. What made you want to be a filmmaker?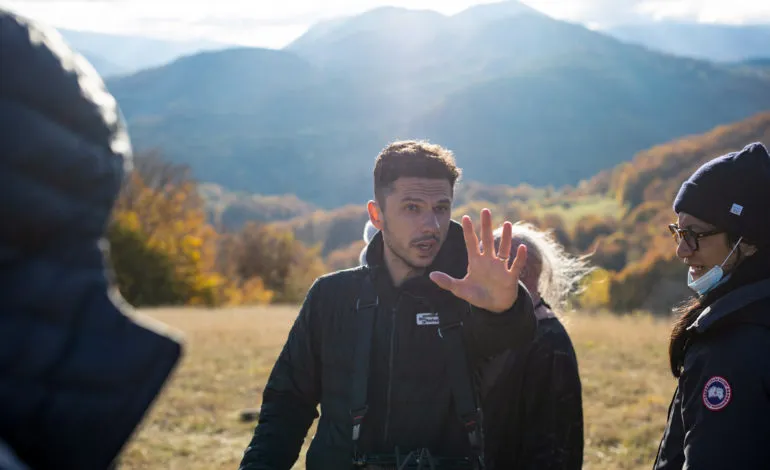 Goran Stolevsky: When I was 12 and moved to this country—I'm in Australia right now—I didn't have any friends. It wasn't the other kids' fault, I was just a very strange kid to be around. I forget how I came to the cinema. Initially, I was more of a bookish kid, and then I think I started to become obsessed with film history because I think the Oscars were happening around that time. There was this editing of all these movies, and I'm very drawn to the things that happen every year. There's a pattern and I'm like, "That's amazing."
I started researching movie history and just became a movie nerd. My friends became Katharine Hepburn and Ingmar Bergman for many years. Initially, I thought I would be more attracted to the job of film critic because I felt like to be a filmmaker you either had to be related to filmmakers or just really, really rich. And I was neither of those things. And then I was like, "Fuck yeah! I'm going to make movies!
And it's funny because my first impression was correct. Generally, to be a filmmaker, you have to be either really, really rich or related to a filmmaker. But somehow… And maybe that's why it took me 20 years. Some of these things are instinctual, and as you get to know each other better, you start to realize that there is this thing of analyzing my own feelings and thought patterns in the safety of my own world of people I've created, basically, and just dealing with that. Like I mentioned, my periods of unemployment, just having something that can possess me so much. I have something worth waking up to the next day, even when literally the world isn't responding to my emails and I have no perspective. And I'm well into my thirties at this point. Creativity in general is what drew me to it, and because the cinematic language was the first one I was exposed to very intensely, it seems to be the easiest for me to shape things. I so wish I could write prose. It's so much easier and cheaper. But I don't know how to do that. And now I am here.
PopHorror: What awaits you, Goran?
Goran Stolevsky: The reason I didn't write much about the genre is because the genre is expensive, and in general I thought my first should be small, manageable, and cheap. So most of the things I wrote were things I could do with very little money. And ironically, the most expensive movie was the first one we did, so I'm like, 'Now I'm going to write a lot of more expensive ones.'
The action finally happens. I already finished one. I just made a movie, and we just finished editing it so we're mixing the sound. It's called Of an age. I did this in Australia. It's much smaller. It's an indie, grungy, gay little love story set in the 90s, mostly in the more bland suburbs of Melbourne, so as far away from the mountains of Serbia as you can get. So I do that, finish it, then fly to Macedonia in May to start the third, which is another independent drama about a queer woman who is forced to raise her dead partner's daughters even though she doesn't does not. I don't want to be a mother. It's in a society where she can't adopt them legally, so she has to maneuver things. It sounds dark and depressing but it's mostly a comedy. And I hope that I will survive this process. Making queer films in some of these places can be very tricky.
PopHorror: Well, you intrigue me! I'm ready for queer movies, so I'm definitely intrigued by these.
Goran Stolevsky: The action film is also queer!
PopHorror: Ah Super ! You have my attention. Just one last question for you today. What's your favorite horror movie?
Goran Stolevsky: My favorite? Oh, I don't know. Is psychology a scary movie?
PopHorror: Yes!
Goran Stolevsky: psychology is one of my favorite movies. Would you say it is?
PopHorror: Yes of course.
Goran Stolevsky: Very cool. well i guess psychology. Recently get out, But yes. There are many, I suppose, but let's go psychology.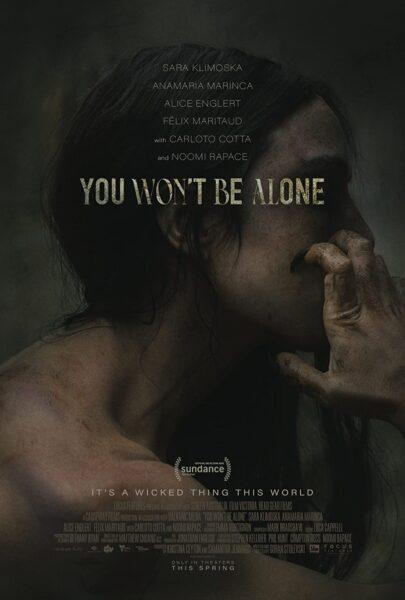 Thank you very much, Goran, for taking the time to talk to us. you can catch You won't be alone in theaters now!