Former Exeter writer publishes fourth novel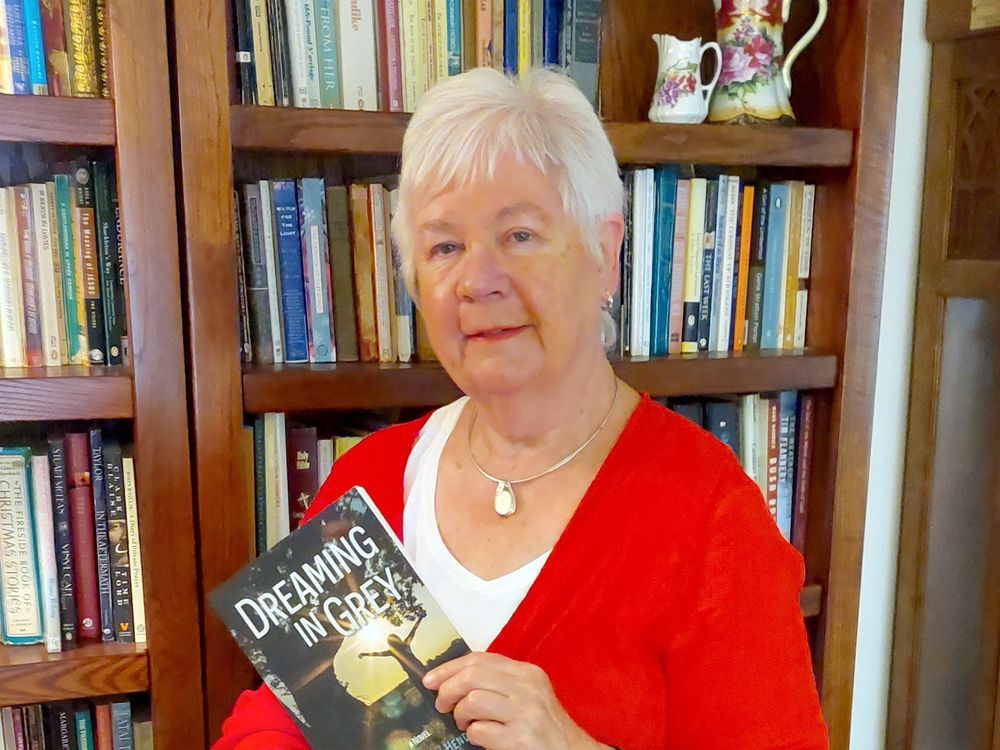 Content of the article
While writing her recently published fourth novel, Dreaming in Grey, former Exeter resident Dorothy Henderson drew inspiration from her childhood in Gray County.
Content of the article
Henderson, who lived in Exeter for 11 years before moving to Waterloo with her husband John last year, is the former minister at Exeter's Caven Presbyterian Church, who retired in 2014.
Written over a two-year period during the pandemic, Dreaming in Gray tells the story of five generations in Gray County.
"I think the pandemic has a lot to do with it," Henderson said of his latest novel, "because he just showed all of us how very important family is and being in (a community."
These feelings inspired Henderson to think about growing up and where you live in your lifetime. Additionally, Henderson was inspired after reading three books about the life of Agnes Macphail, who was born in Gray County and was Canada's first female MP.
Content of the article
"I thought she was such a fascinating character," Henderson said.
Dreaming in Gray tells the parallel stories of nine-year-old Sara, raised in Markdale, County Grey, and her grandmother Ruth. Along the way, stories of Macphail are also told in the novel.
Writing Dreaming in Gray presented a new challenge for Henderson, as it was the first novel she had written that traveled back and forth in time.
"I found it a bit difficult, but I think it worked," she said, explaining that as characters, Sara and her grandmother's stories are told in the book so that they are the same age.
Henderson's previous novels include The Season for Strawberries, Happy are Those, and Dr. Bloom's Event. She has also written a cookbook, Loving it Local: Preparing Delicious Fresh Local Food.
Content of the article
Asked how her songwriting has changed over the years, Henderson said she's now more up for a challenge.
"Before, I think my stories were more linear, whereas now I think I'm getting a bit more adventurous," she said. "Sometimes I wish I had started this when I was young, but it didn't work out that way."
She said she enjoyed the whole writing process, including researching, piecing together a story, and polishing it.
"I love the whole creative process of thinking about how this story can unfold," she said, adding that once focused and in a groove, she never seems to suffer from the blocking of the music ever again. 'writer.
Henderson said those who read his previous books told him they enjoyed his characters.
Content of the article
"People in my stories make them laugh and cry…I don't know how I do that, but obviously there's something about my character development that allows people to see the humanity in people and relate to them. 'them."
Henderson said she has a very loyal group of "pre-readers" who help her along the way as she finishes a book.
"They are absolutely incredibly helpful to me. They point out the most obvious things I missed. They are nice, but forceful about certain things.
With Dreaming in Gray fresh out of print, Henderson is already thinking about his next project and considering ideas for a few children's books.
"I have a lot of creative thoughts swirling around," she said.
Dreaming in Gray is available in Exeter by calling Kathy Coolman at 519-235-1514, at Fincher bookstores in Goderich and Kincardine, through Amazon.ca or from Henderson at [email protected] The books cost $19.95 each.