Death announced for veteran writer, traveler John Guy Laplante; Longtime contributor to LymeLine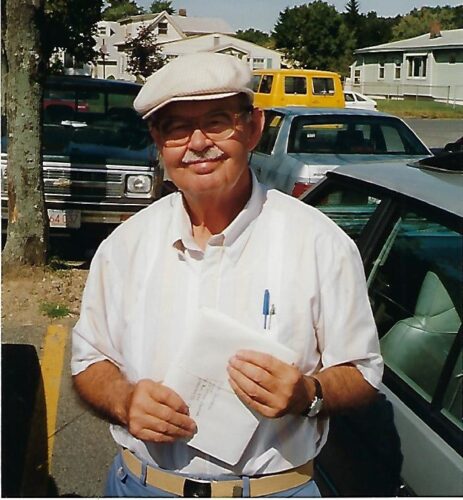 It is with great sadness that we share the news of the passing of our beloved friend and longtime LymeLine contributor, John Guy Laplante.
I first met John when we were both working at Main Street News in Essex. He wrote an extremely popular column titled Senior Moments and brought an always interesting and often alternative perspective to our bustling Monday morning newsroom meetings. In general, he wrote about whatever pleased him in these columns, but during my time at the newspaper, he mostly wrote about his many travels around the world.
He wrote reports, he wrote articles, he wrote columns, he wrote books… he wrote and he wrote and he wrote!
I met him before he left for Ukraine as the oldest Peace Corps volunteer in history and, of course…he kept writing!
We have published many columns by John from Ukraine here on LymeLine (find them under Senior Moments sub tab Columnists at the masthead – they described in detail his remarkable activities and fascinating travels during his service. I have no doubt that he would be absolutely devastated by the current situation in this country.
It's hard to put into words the extraordinary impact John had on me – he supported my journalistic endeavors from start to finish. In what turned out to be his last phone call, he was always encouraging me to start a new online journal where we live now!
He stayed in touch throughout his adventures, including his cross-country trip from the west to east coasts of the United States in a van, and ultimately his decision to move to Morro Bay, California, to be near his daughter and his son-in-law. And in a somewhat unforeseen turn of events, my husband even ended up driving John's car from Deep River, Conn. in Morro Bay, and was thus able to visit John in his last home.
John continued to stay in regular contact until early February this year, scheduling separate phone calls with Nigel and myself, who were always jam-packed with his latest ideas and experiences.
John was an inspiration in so many ways – he was passionate about every aspect of life and every person he met along the way. It was a privilege to know him and an honor to count him as a very dear friend.
You will be sorely missed, John, but as your son Mark so aptly puts it in your "official" obituary, which we posted below, "What a life you have lived!
Obituary: John Guy – What a life he lived!
By Marc Laplante
John Guy Laplante (born Jean Guy) passed away quietly in his sleep, which was his wish, on February 13and2022.
He was born in 1929 to Marguerite (Bourke) and J. Arthur Laplante in Pawtucket, RI. As immigrants from Quebec, his parents wanted to provide John with the best opportunities, so John began his fourth year at Sacred Heart Academy boarding school in Sharon, MA. There, French-speaking priests educated him. John was an excellent student and always enthusiastically visited his parents on Sundays. John continued his high school education at Assumption Preparatory School in Worcester, MA, where instruction was French-focused and often given in French.
One story John was proud to tell was that L'Union Saint-Jean-Baptiste d'Amérique (USJB), a French-American benevolent society, provided full scholarships to Assumption College for one student from each state in New -England on the basis of a difficult exam entirely in French. John received the highest score in Rhode Island, as did another boy. It was a tie! The USJB decided to offer two Rhode Island scholarships that year. And so it was that John continued his French-focused education, graduating magna cum laude.
John developed a keen interest in writing and journalism. An Assumptionist priest told him that studying economics would be an excellent training to become a journalist. Dutifully, he began graduate studies in economics at Brown University in 1952. He hated his classes and spent his free time volunteering at the school newspaper. A year later, he transferred to Boston University, where he earned a master's degree in journalism. His career of dipping his quill in the inkwell and scribbling his thoughts on the page had begun.
John was a committed and supportive father to his three children, raising them with his ex-wife, Pauline Dupre, in Auburn, MA. He was always ready to offer advice and strongly encouraged his children to invest in their formal and informal education. He instilled in his children a strong sense that life is full of adventures and they should easily pursue it.
John worked for years at the Worcester Telegram and Gazette, before becoming editor of Feature Parade Sunday Magazine. He wrote a camping column that had an avid readership. He used this column to fund a summer tent-trailer trip across the United States with his family, writing articles wherever they went.
Eventually, John quit newspapers to become director of public affairs at Assumption College, then years later struck out on his own. Public relations firm John Guy Laplante Associates came into existence in 1972, with USJB becoming one of John's launch clients. John ran the business successfully for fifteen years while building a property portfolio alongside it.
John became involved with Elderhostel at Incarnation Camp, Deep River, CT upon his retirement. He loved giving lessons there, as well as commanding the Love Boat. He also met a close friend and companion, Annabelle Williams, or as John called her, "Milady Annabelle".
Central Connecticut became John's second home, where he became an active member of the Deep River community. He was heavily involved in the Rotary Club, which originated the installation of Keyboard Park and the elephant statue in front of City Hall. Rotary presented John with the Paul Harris Award, its highest honor. Still a journalist, John continued to write articles for the local Main Street News.
During a concert at the Coast Guard Academy, John felt deep regret that he had never served his country. He decided to change that by joining the Peace Corps. Chernihiv, Ukraine, became his destination. Although he faced many challenges there, he completed his tour, becoming the Corps' longest serving volunteer. Volunteers in Ukraine elected John to represent them when the vice president traveled to Kyiv, where he memorably shook hands with Joe Biden.
John had many passions and interests; swimming, sailing, canoeing, cycling, exploring. He was a voracious reader who loved libraries and indulged in watercolors, poetry and chess. Inspired by Robinson Crusoe, he enjoyed building and tinkering. Always looking for improvements, he even designed a better johnny, his MedGown.
His only real vocation was writing. He threw himself into it with energy and enthusiasm, writing hundreds of articles and blogs and three books about his adventures traveling the world and serving in the Peace Corps. Even at the end, after choosing hospice, John characteristically said, "I want to write a blog about it. I think that would interest people.
John was extremely curious about people and, through his extensive travels, developed an extensive network of friends around the world with whom he corresponded regularly. These relationships meant so much to John.
His parents, his sisters Louise and Rose, and his brother Michel predeceased John. His sister Lucie survives him.
John leaves behind a close and loving family: his son Arthur, his wife Marita, his grandchildren Elise, Ryan and his wife Samantha, Thomas, and his great-granddaughter Allegra Laplante. Her daughter Monique, her husband David, her step-grandson Christopher and her great-granddaughter Ruby Nelson. Son Mark and grandchildren Annalivia and Lincoln Laplante. Nephew Jean-Christophe and nieces Cristin and Michelle.
John always said he would come back as a seagull if he was reincarnated. Keep an eye open.
John's cremated remains will be interred at Notre Dame Cemetery in Pawtucket, RI. A memorial service is held. If you are interested in participating, please email [email protected]