DC Made a Spotlight Profile on a Fictional Writer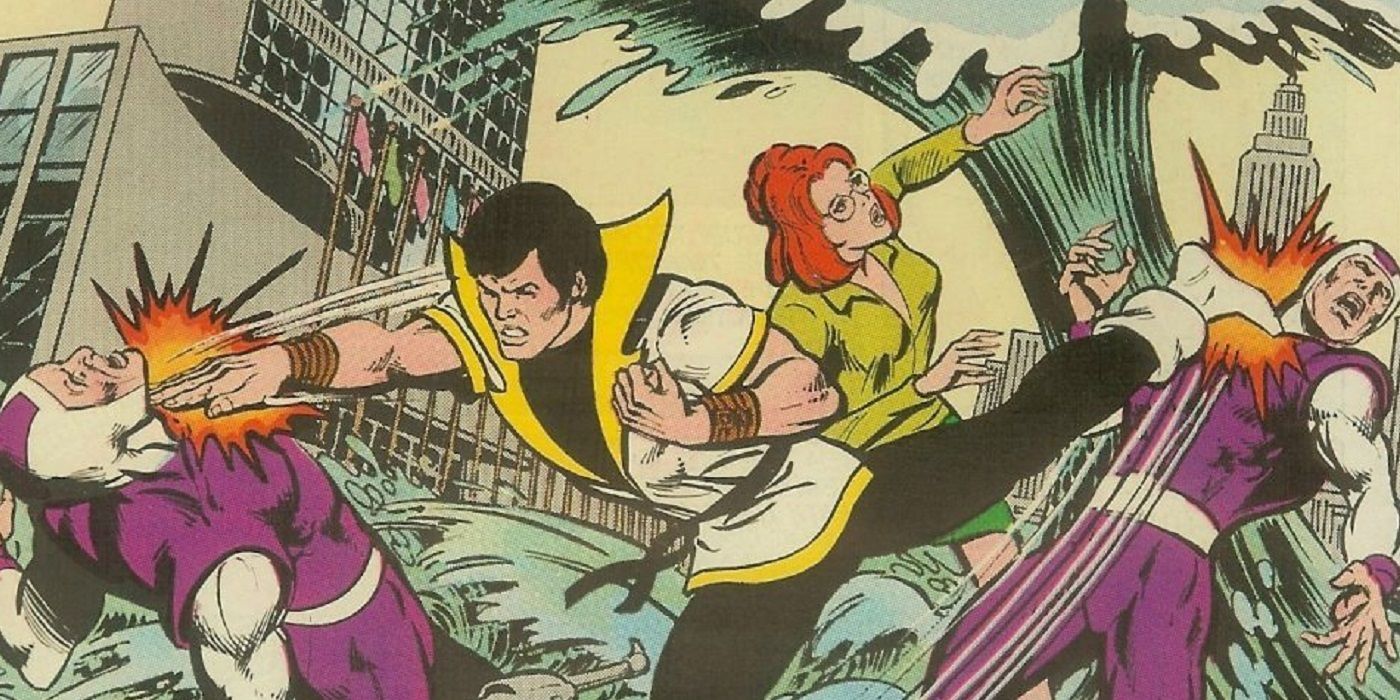 In the latest Comic Book Legends Revealed, find out how DC came to give a fictional writer a spotlight on themselves as a sort of weird "farewell."
Welcome to Comic Book Legends Revealed! This is the eight hundred and forty-sixth episode where we take a look at three comic book legends and determine if they are true or false. As usual, there will be three posts, one for each of the three captions. Click here for the first caption of this episode. Click here for the second caption of this episode.
NOTE: If my twitter page reached 5,000 subscribers, I'll be doing a bonus edition of Comic Book Legends Revealed that week. Good deal, right? So go follow my Twitter page, Brian_Cronin!
COMIC CAPTION:
DC gave a spotlight profile on Barry Jameson, who was a fictional pseudonym of David Michelinie.
STATUS:
True
As I noted in a recent Comic Book Legends Revealed, in 1975 Carmine Infantino was trying to get DC to make more ties to the then-popular (but already on the way out of the mainstream) martial arts trend in the popular culture. At the time, Paul Levitz was 19 years old and was an associate editor for Joe Orlando, whom Infantino had asked to create a Kung Fu comic book title. Levitz and Carl Gafford discussed the concept and Gafford suggested that why not use Legion of Super-Heroes' Karate Kid because that way you could appeal to both Legion fans AND martial arts fans alike. !
Orlando got into it and Levitz got the chance to write the Karate Kid series, which debuted in early 1976.
However, Infantino felt that Levitz was too inexperienced at the time to write the series, so he told Orlando to get rid of him. David Michelinie was brought on board with the second issue.
RELATED: Did DC Really Chop Jack Kirby's Last World Story Against His Will?
This second issue, however, featuring Karate Kid battling Major Disaster, was based on a plot by Levitz. Originally Michelinie had planned to do the book WITH Levitz, and he decided they should find a pseudonym to use for their work together and Michelinie came up with "Barry Jameson", a reference to his middle name (Barry) and that of his father. name (James), so it was Barry, the son of James.
However, for some reason this issue was the only one that involved Levitz and Michelinie working together (or rather, Michelinie working off of a Levitz plot), so Barry Jameson turned out to be just a pseudonym for Michelinie by himself- same. He used it for the rest of his run as Karate Kid writer, but oddly enough, when he finally left the book, he then started using it for short stories in House of MysteryAs House of Mystery #257…
RELATED:Was Maximum Carnage originally about Carnage trying to steal Venom's symbiote?
Eventually, however, Michelinie dropped the alias (shortly before leaving the DC era to go work for Marvel), and hilariously enough, he received a bit of a farewell as in Secret Society of Super Villains #12, DC posted a profile on Barry Jameson, who was apparently quitting comics to go study molecular chemistry in Canada…
The whole profile is a tongue-in-cheek look at how Jameson clearly isn't a real person, including the opening "Barry Jameson was created to write. He has almost no life other than his machine. to write" and the ending, where Jameson named his favorite writers, and he chose pseudonyms used by other DC writers, like Sergius O'Shaughnessy by Denny O'Neil, Virgil North by Mary Skrenes, and Bart Regan by Robert Kanigher. I don't know who Wesson Smith was. If anyone else does, please let me know, I'll edit it in there! EDITED TO ADD: Reader FreedyJay says Smith was the pseudonym of Martin Pasko. So this is it ! Thank you, Freedy!
Anyway, it was a very cute way to say goodbye to Michelinie's pseudonym.
DISCOVER A FILM LEGENDS REVEALED!
In the latest Movie Legends Revealed – Did Atari make a special Superman video game just for Superman III?
MORE LEGENDS!
OK, that's it for this episode!
Thanks to Brandon Hanvey for the Comic Book Legends Revealed logo, which I actually don't even have anymore, but I used it for years and you still see it when you see my old columns, so that's fair enough to thank him again, I think.
Feel free to (hell, please!) write in with your suggestions for future installments! My email address is [email protected] And my Twitter feed is http://twitter.com/brian_cronin, so you can also ask me for captions there! Also, if you have any correction or comment, feel free to email me as well. CBR sometimes emails me with emails they receive about CBLR and that's fair enough, but the fastest way to get a fix is ​​to just email me directly, honestly. Corrections don't bother me. Always better to get things accurate!
This is my most recent book, 100 Things X-Men Fans Should Know And Do Before They Diefrom Triumph Books.
If you want to order a copy, order it here gives me a referral commission.
This is my second book, Why does Batman wear shark repellent? The cover is by Kevin Hopgood (the man who designed the War Machine armor).
If you want to order a copy, order it here gives me a referral commission.
This is my comic book captions (130 captions. — half of them are reworked classic captions that I featured on the blog and the other half are captions never published on the blog!).
The cover is by the artist Mickey Duzyj. He did a great job on it…
If you want to order it, you can use this code if you would like to send me a bit of a referral fee.
Follow Comics Should Be Good On Twitterand on Facebook (Also feel free to share Comic Book Legends Revealed suggestions on our Facebook page!). Not only will you receive updates when new blog posts appear on Twitter and Facebook, but you'll also get original content from me!
See you next time!!