'Completely unclear': Mushtaq Ahmed's lawyer seeks answers on Bangladeshi writer's death in prison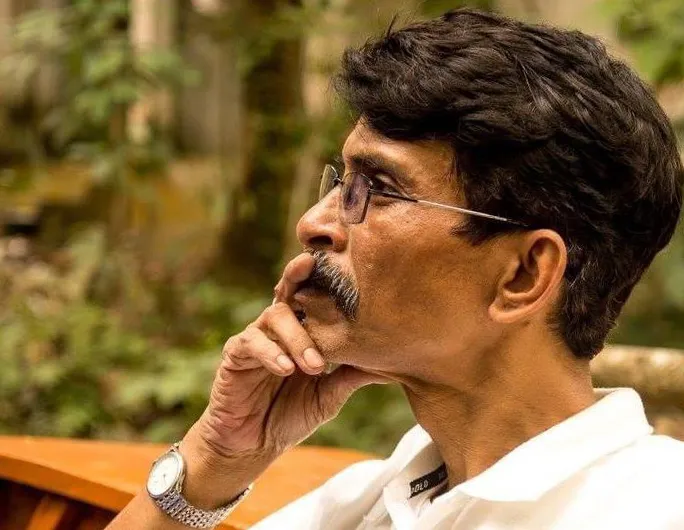 A year after the death in prison of the famous Bangladeshi writer Mushtaq Ahmed, the circumstances of his death remain obscure. While a commission of inquiry formed by the Interior Ministry claimed he died of "natural causes", his former lawyer Jyotirmoy Barua believes Ahmed may have died of health problems that arose after allegations of torture.
In May 2020, the Rapid Action Battalion, an elite Bangladeshi police unit sanctioned by the United States since last year for gross human rights abuses, arrested Ahmed and cartoonist Kabir Kishore. from their residences in Dhaka and accused them of violating the Digital Security Act (DSA). A first news report, which opens a police investigation, accused Ahmed, Kishore and four others of running the popular "I am Bangladeshi" Facebook page, which featured political and social commentary on COVID-19.
Kishore told CPJ after his release last March that during the first days of his detention, authorities tortured him by repeatedly hitting him on the head before taking him to a Rapid Action Battalion office. There he reunited with Ahmed and learned that he too had been abused. Ahmed "told me he had been tortured with electric shocks," Kishore told CPJ. (It is not possible for CPJ to independently verify the allegations, but they are consistent with details of detention abuse in Bangladesh.)
Having been denied bail at least six times, Ahmed has been in limbo for much of his detention. According to the DSA, authorities should have completed their investigation within 60 days or sought an extension from a court. But his lawyer said it didn't happen in time – authorities only filed an indictment after nine months in custody.
He languished in prison for more than nine months before suffering a heart attack, according to reports, and died on February 25, 2021; his family say there was a three-hour delay before he was admitted to hospital, according to the United Nations.
CPJ emailed the offices of Prime Minister Sheikh Hasina, Interior Minister Asaduzzaman Khan, Justice Minister Anisul Haq, Attorney General Abu Mohammad Amin Uddin, and Dhaka Metropolitan Police Commissioner Md Shafiqul Islam , for comment, but received no response. Khandaker Al Moyeen, director of the Rapid Action Battalion's legal and media wing, did not respond to CPJ's request for comment sent via the messaging app.
Barua, who represents former detained journalists Shafiqul Islam Kajol, Jamal Mir, and Mahtabuddin Talukdar, spoke to CPJ via video call about the alleged torture and death of Ahmed, the backlash inside Bangladesh, and the dangers of the law used to detain Ahmed and Kishore.
This interview has been edited for length and clarity.
How did you learn of Mushtaq's death?
I saw a Facebook post from a lawyer friend of mine. I was very surprised that the prison authorities did not communicate directly with me or my family about his death. It was completely unexpected. [I had expected that] in a few days, he was going to be released on bail.
In January 2021, I applied to the High Court Division for bail for Mushtaq and Kishore. Due to the long list of cases, I had to wait over two months for the case to be heard. Mushtaq died on February 25, 2021. Subsequently, I managed to have the case heard and Kishore was released on bail on March 4, 2021.
What was the reaction inside Bangladesh?
The reaction inside Bangladesh was furious. There were protests. Before Mushtaq's death, I was one of the only people to call for the repeal of the Digital Security Act. After Mushtaq's death, there was a sea change. More and more people, civil society organizations and human rights defenders began calling for the repeal of the law because it was so draconian that a writer like Mushtaq died in prison.
Unfortunately, the police seized his personal gadgets, computer and cell phones earlier. On behalf of his wife, we have filed a request with the International Criminal Court in Dhaka to return these things because they are not relevant to the case. But surprisingly, the judge refused without giving a valid reason why these objects should be kept by the police. This evidence cannot be used against the other defendants because these criminal allegations are a matter of personal responsibility. We will be filing another application in the High Court Division on this matter.
What is your reaction to the March 2021 message from the Home Office report that Mushtaq died of "natural causes"?
As Mushtaq's lawyer, I expected that an independent investigation would be conducted into his death and that the report would be released for public review. But now, apart from some [basic details] state provided to some newspapers, we don't know what's in that report.
I am not aware of any other health complications that Mushtaq has experienced apart from some issues with his eyes. He never mentioned that he felt seriously ill; otherwise, I would have applied for medical assistance.
The cause of death itself remains unclear. Kishore alleged that Mushtaq had been tortured. If Mushtaq was not released, if he was not otherwise exposed by other events between his arrest and his death, then the torture and death should be considered as related events. In a case of death like this, if we consider it a kind of homicide, then causation is a pretty serious issue. The people who tortured him in state custody should have been held responsible for his death.
As soon as Mushtaq died, his body was handed over to the family and they had to complete the burial process immediately. We were so surprised that we couldn't even think straight at that time. The state said they performed an autopsy report after his death, but his family and I have not seen such a report. It could be torture. It could have just been a heart attack. Without access to the autopsy report or the Interior Ministry report, Mushtaq's death remains completely unclear to us, even to this day.
Justice Minister Anisul Haq recently recognized that the Digital Security Act has been "misused and abused" and noted that journalists would no longer be threatened with immediate arrest after a complaint is filed against them under the law. Are these actions sufficient to ensure that journalists will not face legal reprisals for their work?
I've been dealing with journalists' cases for a few years. Especially during the COVID-19 period, journalists have been the DSA's worst victims. Jamal Mir and Mahtabuddin Talukdar were imprisoned for over a year in DSA cases. They were repeatedly denied bail.
After Mushtaq's death, there was a reasonable conclusion that the use of DSA was too harsh.
Although the Minister of Justice has repeatedly stated that a journalist will not be arrested immediately after a complaint has been filed against him, in reality the process is reversed. In most cases, journalists are abducted or illegally detained without any evidence against them. If the police do not bring them before a magistrate after 24 hours, the detention becomes illegal under the code of criminal procedure. Then, after two or three days, even a month later, they are involved in the case under the DSA. In the case of Mushtaq and Kishore, they were picked up from their homes [and allegedly tortured] before a [first information report] was filed against them. [The first information report filed against Ahmed claimed he was arrested on May 5, when his wife told The Daily Star that he was in fact detained a day earlier.]
When it comes to AVD, I don't use the term "abused". The law itself is so vague, ambiguous and draconian that if anyone uses it, that in itself is abuse. That is why we are calling for the repeal of the law.
What other mechanisms has the government used to target journalists?
Whether you're talking about the DSA, the Official Secrets Act [a colonial-era law under which journalist Rozina Islam was detained in connection with her reporting on the COVID-19 pandemic], or the Penal Code of Bangladesh, these are tools in the hands of the state. The enforcement of laws such as the DSA and the Official Secrets Act is about power. It's about how politicians threaten the people of this country. People are being abducted, forcibly taken from their homes without legal authorization.
How should the world remember Mushtaq?
Mushtaq is to be remembered as a successful writer and entrepreneur. He died for free speech. Journalists should remember him as an icon and continue to speak out against human rights and civil rights abuses. They must not stop. They shouldn't be afraid of any persecution because people are always there to support them. People should remember him as a fighter. He died fighting for his rights and the people of the country.